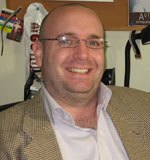 Dr. Alan Seymour, Featured Mentor
More than 11 years experience in counseling, program management, leadership/directing, missions work, and teaching. Working knowledge of counseling practices, program management, teaching principles, university practices, ministry practices, fund raising, networking, and problem-solving skills.

B.A. in Political Science, M.A. and Ph.D in Clinical Christian Counseling, Ordained Pastor, Junior League Partner of the Year 2003, Published Poet, National Christian Counselors Association, American Society of Christian Therapists, American Association of Christian Counselors.